Cornish Rex Hall of Fame
All about Cornish Rex cats, and Cornish Rex kittens. List of Cornish Rex Breeders, including photos of beautiful cornish kittens.
Page dedicated to Cornish Show cats.
The Cornish Rex breed dates back to 1950, when a red and white curly male kitten, was found in a litter of kittens, on Bodmin Moor, Cornwall, England.
The Cornish Rex, was the result of spontaneous genetic mutation. The female, named Serena was a tortoiseshell and white domestic shorthair, and her litter contained just one curly coated red and white male kitten. Serena's owner, Nina Ennismore, named this kitten Kallibunker, who became the founding father of the Cornish Rex breed.
Kallibunker, was noticeably different from his littermates. His hair was short and curly, and instead of possessing the cobby body like that of his littermates and mother, Kallibunker's body was long and lithe. He possessed large ears, a slender tail and a wedge shaped head.

Gr. Ch. Myskanco Mutamam
Owner: Pat and Dave Desolla
Breeder: Carole Gwyther


Nina Ennismore, interested in this mutant, contacted A C Jude, a well known British geneticist. On the advice of Jude, Mrs Ennismore back crossed Kallibunker to his mother. This mating produced a litter containing, one straight coated kitten and two curly coated kittens. A second mating between the two again produced curly coated kitten. Initally, they were given the name of English Rex, until in 1960, the first Devon Rex kitten was found, so finally were given the name of Cornish Rex.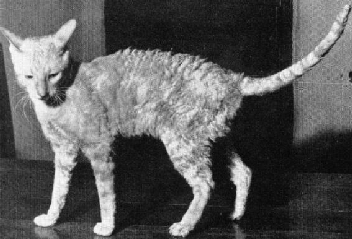 Above left, Kallibunker - original mutant, right, Poldhu Blue Cream Male - Kallibunker's son - owned by Brian Sterling-Webb

Before leaving England with her red tabby brother (Pendennis Castle) for America in 1957, LaMorna Cove (blue and white) was bred back to her father Poldu.

Later LaMorna Cove gave birth to four Cornish Rex kittens. These kittens were the first Cornish Rex born in America.

Diamond Lil of Fan-T-Cee (owner Peggy Galvin), and Marmaduke of Dazz-ling (owner Helen and Walter Weiss, became the foundation for the American Cornish Rex.

Although apparently healthy, Pendennis Castle never sired any kittens.

(For further information on Cornish Rex, please visit our Cornish Rex History Page).